written by symaa navid
The secret's out…traveling around Benin is awesome!
I decided to write this travel guide to Benin because, well, there isn't a lot of information available online about traveling to Benin. Even further, there isn't a lot of information available online in English about backpacking in Benin.
I backpacked around Benin alone and really loved it. There are lots of things to see and do for any type of tourist in Benin. It was pleasantly easy to travel around the country!
Beaches, history, architecture, music, nature…Benin has it all! I've included all these cool things in my Benin travel guide!
I traveled around Benin on a budget, staying in the cheapest guesthouses (auberges) and hostels and traveling by public transportation.
This travel guide and itinerary for Benin will work for people who also may have already planned their own private transportation or people who want to take public transportation around Benin.
I write about one week and two week itineraries Benin, the small, historically rich gem in West Africa!
Backpacking in Benin: A One Week Itinerary
If you have something to add or something has changed in this Benin travel guide please let me know and I'll change it! I really appreciate it!

Note that some of the links in this Benin travel guide are affiliate links. If you found this post helpful consider booking something via a link here- it's at no extra cost to you! Thanks!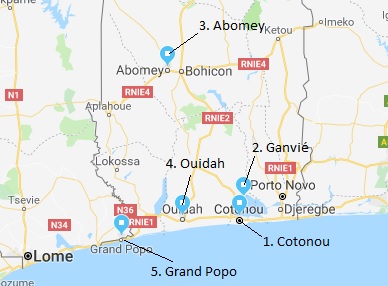 If you have limited time, money, or both, you can still see a lot of wonderful things in Benin during one week. Here is my suggested Benin itinerary for one week! Though I do love jam packed vacations…
If you want to relax a bit more while backpacking in Benin, I would recommend (GASP!!!) skipping Abomey and doing Ouidah as a half day trip while you are on your way from Cotonou to Grand Popo. Then you can chill at the beach if you are looking for more of a relaxed vacation.
Otherwise, this Benin itinerary is fine for a busy week or a more relaxed 8-10 days. Thankfully distances aren't too long …it's not like traveling in Southern or Eastern Africa!
I traveled to Togo overland from Benin and so this one week itinerary will be perfect for those of you who want to do the same! Or if you are traveling to Benin from Togo then you can tackle this guide to Benin backwards!
Benin Itinerary Day 1: Arrive and visit Cotonou, Benin's largest city and port of entry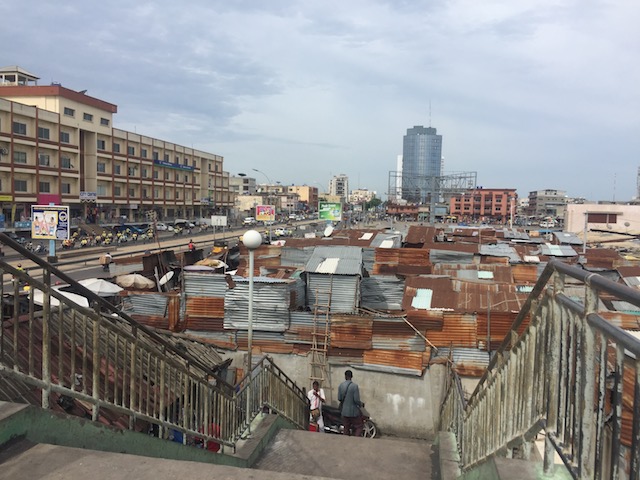 Located along the coast, Cotonou is the largest city in Benin. It is also where the international airport is located.
It's not the capital, though! Porto Novo is the capital.
From here, backpackers in Benin can get to anywhere in the country. You can also easily travel to Nigeria, Togo, Niger, ad Burkina Faso from here…though getting visas to all those places may be less easy…
There are a few nice things to see and do in Cotonou, but I admit it isn't the most exciting city.
I found it more interesting than Togo's capital Lomé, but you can pretty much see the tourist sights of Cotonou in a day or two.
Cotonou Travel Guide: Visit The Cathedral (Notre Dame des Apotres) in Cotonou is very unique and worth a visit. It is the seat of the Catholic Church in Benin and the pope even visited there! It isn't too far from the famous Dankopta Market where you can literally wander for hours, people watching and absorbing the atmosphere. The Dankopta Market is also home to an interesting voodoo market, though it is difficult to find. I ended up visiting one in Ouidah.
I read online that people will help you find things in the big market if you give them a little tip, but even after asking around nobody could direct me to the voodoo fetish market. Maybe I was just unlucky. It is apparently in the northern part of Dankopta Market. Go north of the main market building along the shore and keep going (you will pass the empty bottle area). Good luck and prepare to pay for taking photos.
Actually, after asking around for that one really nice man thought he knew exactly what I wanted. He found me a moto and sent me on my way to the Artisanal Center/ Craft Market, which made me laugh because it seems like everyone assumes a white girl wandering around is trying to find the craft market.
The Artisan Market in Cotonou is the perfect place to find souvenirs and trinkets. There are lots of carved, wooden statues and necklaces. The vendors are extremely persistent, though very kind. To tell you the truth I find these sorts of places to feel like tourist traps, but sometimes you can find some gems. The Fondation Zinsou may offer more unique pieces of art if that is what you are looking for.
Lastly, I enjoyed taking walks and wandering around Cocotiers, a nice neighborhood not far from the airport. It was a beautiful neighborhood and not so far from the beach!
If you want more beaches and seafood, don't miss Route des Pêches, which stretches along the coastline between Cotonou and the west towards Ouidah. There are plenty of fishing villages to explore and of course lots of fresh seafood!
Where to stay in Cotonou, Benin:
After traveling through Benin, Togo, and Burkina Faso, I realized that accommodation can be a little pricey in the region.
Consider booking ahead to be sure you can get the best rates since the budget options do not always have lots of beds available. I will list some popular options in this Benin travel guide.
Also know that the cheapest option may not always be the most secure, or it may be really far outside of the city center. If you just look for the cheapest option on Booking.com like I do, I really recommend double checking the location and reviews!
Guesthouse Cocotiers- This place is where I stayed. It is right by the airport and they offer one of the cheapest dorm options in the region! They also offer private rooms. This is also the place to go if you want to meet other travelers. You meet a lot of interesting people here! One thing I really loved about this place was the staff. They were wonderful and sincerely wanted to help you out. The man at the front desk would always tell me what prices to expect when I took shared taxis or motos around. The staff cooked their own meals in the shared kitchen so I learned all about regional cooking. They even invited me to join them one evening and it was one of the most enjoyable dinners I had during my trip! You'll meet authentically wonderful people here.
La Guesthouse Cotonou- This place is the other backpacker hangout in Cotonou. I did not go there personally but it supposedly has affordable rooms and is a great place to meet people. You can read more here on Tripadvisor, but you can't book it online through a booking site.
Hotel Saint Jean- This is less of a backpacker place but is still clean and affordable and closer to the center of town. Note that accommodation in the region can get really really expensive so I recommend booking in advance if you are traveling to Benin on a budget! You can check out Hotel Saint Jean on Booking.com!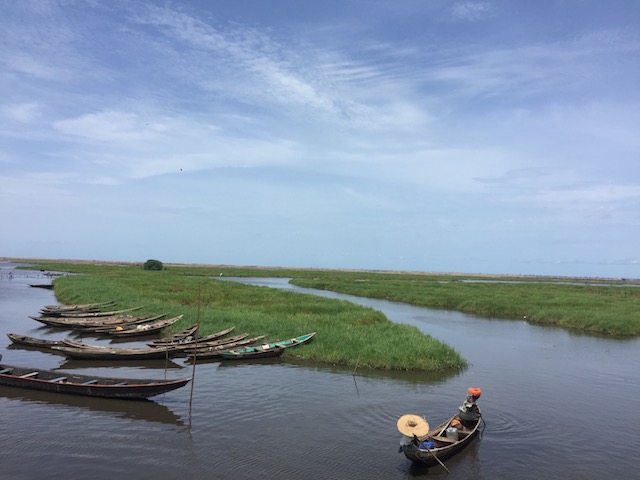 Benin Itinerary Day 2: Ganvié Day Trip: The Venice of Africa
Ganvié is a really special floating village not so far from Cotonou on Lake Nokoué. It is apparently one of the larger floating villages on the continent. It is also known as the Venice of Africa! Visiting there was one of my highlights of traveling in Benin. I would say it is a must in any Benin itinerary!
I felt skeptical before visiting Ganvié because I had read some negative things about tourism in the area online. In the end I decided to go and I was really happy that I did, even if I did run into some problems along the way. I felt compelled to write a more in depth post about Ganvié. You can check it out here if you're curious.
Otherwise, here's a mini Ganvié travel guide:
How to get to Ganvié: Take a moto (or a Zem as they call it) to the Étoile Rouge (Red Star monument in the middle of town that is the departure point for plenty of bush taxis that will take you around the region). It should be less than 500 CFA to go there from any point in town.
From the Étoile Rouge, take a shared taxi (taxi brousse) to Calavi for 500 CFA. From there you just walk down the street for about 5 minutes until you get to the launching point for the boats to Ganvié.
How much it costs to visit Ganvié:
To visit Ganvié, you can pay either for a motorboat or a canoe (pirogue in French). The motorboat tour costs 10,500 CFA and the canoe costs 8000. You also need to pay for a guide/ government fee which turns out to be 4500 CFA. You will also be expected to tip your guide.
It is much more cost effective to go in a group than to go alone.
Keep in mind:
You are visiting a village where people work and live. The people there don't like being photographed unless you ask. Many will expect some sort of payment.
The tour was interesting in French, though if you do not speak French you may get less out of the tour.
Don't forget sunscreen! I ended up buying a big straw hat to protect me!
Women traveling alone: try to get an older guide. Unfortunately one theme of my Western Africa trip is that the young guides all seemed to think we were on a date and kept on trying to touch me.
For more details check out my Ganvié post!
Hotels in Ganvié, Benin:
I visited Ganvié as a day trip from Cotonou. It is about a half hour away.
If you are interested there seem to be two hotels in the village.
Hotel Germain has their own boats and they do all their own tours. Therefore you do not need to book a tour at the desk when you arrive to the launching point at Calavi. The only other tourists I saw in Ganvié were affiliated with this hotel. To tell you the truth I wished I had stayed there too by the end of my day trip, especially since I had a bit of a negative experience. You can read more about it or book it here.
Chez Raphael is the other hotel. It is very basic and affiliated with the people giving the tours that independent travelers book. It did look cool, though, but I didn't bring my things with me. Plus it would have required me to hang out with my guide all evening and he was already giving me the creeps. This place would be awesome if you had some travel buddies. They have a little restaurant, too.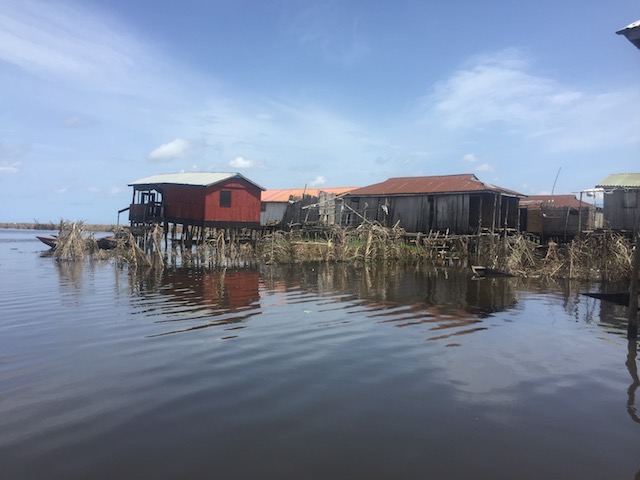 Benin travel guide Day 3: Abomey: History of the Dahomey Kingdom
This former capital of the Kingdom of Dahomey is one of the largest tourist attractions in Benin and also is a UNESCO World Heritage site! It is a definite must see in any Benin itinerary! Lots of the original palaces were destroyed when the French invaded in 1892 and the last king burned them as he escaped, but there are still a few standing that are worth seeing if you have the time. There is also an extensive craft market and the Musée Historique d'Abomey was fine.
There are no pictures allowed inside and you pretty much need a guide if you really want to learn about the history of the place. To tell you the truth, the architecture didn't blow me away. It wasn't like Tiebele or Bani in Burkina Faso, or even the Tatas in Togo, but the draw of Abomey is the history. But I admit that one day is enough.
Though it really isn't possible to see in a day trip from Cotonou since sometimes the public transport may not be reliable.
The tour takes an hour or two.
Cost of visiting Abomey
Entrance to the palaces is 2,000 CFA.
Entrance to the museum is 2,500 CFA.
How to get to Abomey
If you are going to Abomey from Cotonou, a bush taxi to Abomey should cost between 2,500 and 3,000 CFA. The drive should take two to three hours but always prepare for it taking longer. You can find the bush taxis to Abomey at the Stade d'Amitié or along Ave Van Vollenhoven near the Gare Jonquet.
But you can pretty much catch any bush taxi going in that direction and they will let you off at least at the town called Bohicon and then you can just find another shared taxi to Abomey! A shared taxi between Abomey and Bohicon should cost 500 CFA. A Zem/moto should cost 1200-1500 CFA. The ride takes around 15 minutes.
You can also technically take a train to Abomey! The trains weren't running when I was there but that would be my first choice since I love trains! Double check to see if they are running to avoid disappointment. The train runs to Parakou which is farther north. You need to get off in Bohicon and then get a bush taxi to Abomey. It will take longer than a bush taxi.
Once you are in Abomey you can walk to the museum from the taxi stand. Don't let the moto drivers rip you off! Though you may have to take one to your hotel. I recommend marking your hotel on google maps before arriving so you can see how far you need to walk!
Places to stay in Abomey
Auberge d'Abomey is the backpacker favorite and their food was pretty good. It was nothing special but clean and just off the main roundabout.
Chez Monique is supposedly a little higher end but simple nonetheless. Someone told me that there are some pretty miserable animals that they keep there and that sort of turned me off to it.
Residence Marie Josee is apparently another nice place in Abomey. I can't vouch for it personally but apparently people like it and it's a solid choice.
Also, if you can't find a place to stay in Abomey, consider looking in neighboring Bohicon. It is just 15 minutes away and they offer some places that can be booked in advance online if you like to do that. For example, the Hotel Canadienne is priced at just 10 euros per night.
Benin Itinerary Day 4-5: Ouidah : Voodoo, History of Slavery, Art, and Architecture
Note that you could easily spend two more relaxed days in Ouidah, or you could see a lot in one day as well. If you're in a rush you can even see the highlights as a stop in between Cotonou and Grand Popo. If you go to the little tourist office in the center of town you can leave your luggage there if you need.
I really liked visiting Ouidah. If I could, I would put it in my top two or three things I did while traveling in Benin. I would say it is a must do in any Benin travel guide and Benin backpacking itinerary!
I think I liked it because of the sheer variety of things to do there. You can learn about the history of the slave trade (Ouidah was once the second most prominent city that provided slaves during the slave trade), or you can learn all about the history of Voodoo in Benin. You can visit typical Beninese markets and see a mixture of colonial and traditional architecture.
Things to see and do in Ouidah, Benin
It seems like tourists generally hire a guide on a Zim/Zem moto to take them around and explain the sights of Ouidah. I did that and I was happy to not have to walk in the suffocating heat. I even saw two other tourists with their driver all on one moto!
When you arrive in town, plenty of young moto drivers will swarm around you and offer tours. I ended up wandering into a little tourism office in the center of town (if you head southeast on Rue Olivier de Montaguerre and turn right on Rue F Colombani you will see it). The man who owns in, Hervé, is a total sweetheart and I really enjoyed spending the day with him. He practices voodoo and is happy to explain the religion and answer questions! Even though he charged a little more than the young Zem drivers on the street were asking (I think I paid 15,000 for the entire day but that included admission and fees for the Temple of Pythons and all other little charges), I was really happy with everything.
But sorry for babbling, here are some things to see and do in Ouida…
The Temple of the Pythons is a voodoo temple where a ton of pythons just hang out. The snakes are sacred and you can learn all about the voodoo traditions and realize that the west's perception of voodooism is sort of, well, racist. You have to pay an extra fee if you want to take photos.
The Musée de la Fondation Zinsou is a cool art museum in an impressive old colonial home. Like seemingly all museums in the region, a guide will take you around and explain every piece to you. They have a lot of amazing contemporary works by artists from West and Central Africa. You can also enjoy some nice views of Ouidah from the second floor windows.
The Route des Esclaves (the Slave route) follows a slave's journey from being sold in the market in front of the colonial official's house to the Door of No Return which is a beautiful monument on the beach that honors and remembers these slaves. Along the way there are many stops where there are statues that symbolize the various ways the slaves suffered before even leaving the continent. It is a sobering experience. One practicality is that if you want to walk the route be sure to take sunscreen and note that the path to the ocean would take a solid chunk of time to do on foot. If you hire a Zem just for the Slave Route apparently it should cost somewhere between 4,000 and 6,000 CFA.
The Sacred Forest of Kpasse is dotted with bronze statues, the Portuguese Fort is a history museum, and the Catholic Basilica is painted baby blue and is just across the street from the Temple of the Pythons. There's a nice little restaurant next to it called Amicale. The colonial architecture in the center of town and in the outskirts is pretty interesting, and don't forget to notice the Brazilian Quarter with its brightly colored houses.
The Market near the basilica and temple is less chaotic than in Cotonou and was enjoyable. They have a lot of herbs and objects used in voodoo rituals. If you want to see the animal parts used in the rituals, you need to exit the market building and go down the road on the right (if you are facing the market entrance). You have to pay if you want to take a photo, but they're open to haggling.
Traditional salt collecting happens just outside of town in the marshes near the ocean. You can see the women working while on your way to the Door of No Return. You can go to these villages and learn about how they collect the salt.
How to get to Ouidah
How to travel to Ouidah from Cotonou: You can pretty much take any bush taxi going on the main highway towards Togo. I got one from the Etoile Rouge no problem. It takes about an hour and cost soomething like 1,500 CFA. You can also get them from the Gare de Jonquet.
How to travel to Ouidah from Grand Popo or from Togo: Just go along the main highway that leads to Cotonou and grab a bush taxi from there.
How to travel to Ouidah from the north (for example how to get to Ouidah from Bohicon or Abomey): Take any Bush Taxi heading south on RNIE2 towards Cotonou. You can either change at Cotonou or change bush taxis at Allada to go directly to Ouidah.
Also NOTE that these bush taxis don't often go into Ouidah. Instead, they drop you off at the highway turnoff for Ouidah. I was waging a personal war against aggressive Zem drivers and stubbornly decided to walk this route myself. It was a bad idea and took something like 45 minutes just to walk into town. Better to take a Zem.
Where to stay in Ouidah
Note that a lot of the hotels for Ouidah that you will see on online booking sites are located by the beach. This means that you can't really walk into town from them and would need to take a Zem/moto. This also means that you can't really walk to them when you arrive by bush taxi. But I mean who doesn't like a hotel by the beach! Just be aware that some hotels will be sometimes 10 km from the center of Ouidah.
Also, as with most beachfront hotels in West Africa, you can't really swim in the ocean unless you really want to drown. There are some places where it is fine, but the currents are really strong. But you can't visit Benin without visiting the beach! It's a must do for any Benin travel itinerary.
Hotel de la Diaspora (Jardin Bresilien)– This is the most popular budget hotel near Ouidah. It definitely had a family beach resort vibe to it. It is located on the beach and you are sure to meet other travelers here.
Casa del Papa– This is the higher end (though not the most expensive) beachfront hotel.  It is around 80 Euros a night, but I would totally splurge if I had a travel buddy to split the room with!
Le Jardin Secret– This is NOT a beach hotel and is located right in the center of Ouidah. It's like a little oasis and the restaurant is worth a visit even if you aren't staying in the hotel. It is slightly cheaper than Hotel de la Dispora, and you won't have to pay for Zems to and from the beach.
Benin itinerary Day 6-7: Grand Popo: Beautiful Beach Heaven
I loved Grand Popo. If you go during the off season, you will get the magnificent beach all to yourself. The beach is very clean- you won't be avoiding glass and cigarette butts while walking on it. Hang out in a hammock listening to the ocean breeze. Stuff your face with enormous, freshly caught prawns. Go for a walk and see the fishermen fold their impressive nets next to their wooden boats at the end of a long day.
Grand Popo doesn't feel commercialized like other beach hot spots on the continent. If you are seeking peaceful solitude after your adventurous backpacking trip to Benin then this is your place.
But then again it may turn into a complete zoo during the high season…so take my poetic musingsin this Benin travel guide and Benin Itinerary with a grain of salt. I was just in heaven to be at a beach and not be chased around by aggressive vendors or children demanding candy (tourists, can you please stop giving random children candy? pleeease?).
Lastly, you can't really swim in the ocean at Grand Popo. There are no water sports or activities like snorkeling, and that is probably what keeps this place so quiet. I mean, it isn't forbidden to swim and plenty of locals do it, but the ocean does not look welcoming! Even if you are a strong swimmer, there's at least one big rusted out shipwreck (apparently the work of Nigerian pirates in the 80s) not far from the shore that looks sharp and unwelcoming among the waves…I hope you had a tetanus shot!
Things to do in and around Grand Popo
Other than being lazy next to one of Benin's best beaches, there are some activities that more energetic people can do in the area. You could take a pirogue (canoe) trip up the river for about 2 hours (should cost between 5000 and 7000 CFA) , or take a motor boat all the way to where the river meets the ocean , called the Bouche du Roy. The motor boat becomes pricey very quickly (they were quoting something like 55,000 CFA for a day trip), and so if you are traveling alone you may have to find some friends to split the cost. There's also the Villa Karo cultural center that's worth a visit.
Nearby, there is Lac Ahémè, where you can see more women collecting salt or learn about other traditional fishing and farming methods of Benin. You generally need a guide to do some of these activities, but every hotel will have a relationship with a trustworthy guide. You can generally book these things a night in advance when you arrive.
How to get to Grand Popo
Any bush taxi going in between Cotonou and the Togolese border will be able to drop you off at Grand Popo. If you are outside of Cotonou, you can just flag down any bush taxi passing by on the national highway. In Cotonou, you can find these cars at the Etoile Rouge, Stade de l'Amitié, or Gare Jonquet.
Note that the hotels are spread out along the beach. I would check on Google Maps to see how far your hotel may be from the highway. You may need to take a Zem to travel those last final kilometers to arrive at your hotel!
Grand Popo is literally a simple turnoff from the highway and the streets are pretty sparse. If you aren't vigilant your bush taxi could just pass it by!
The drive should take 2 hours from Cotonou, and 45 minutes from Ouidah. Grand Popo is only 20 km east of the craziness of the border with Togo. It is a great final stop in Benin before heading to Togo, or a great first stop in Benin if you are coming from Togo.
I hope you really consider adding Grand Popo to your Benin travel Itinerary!
Where to stay in Grand Popo:
Coco Beach Chez Mathias- I stayed here and it had a very chill, rasta vibe. You get your own bungalow on the beach and there were plenty of hammocks. It was simple but exactly what I was looking for. Also the giant prawn curry I had there was the best meal I ate in Benin! A good, budget option.
Auberge de Grand Popo and Awale Plage  are both a little more expensive but they offer swimming pools for those of you who had your heart set on swimming somewhere during a beach trip. Both have excellent restaurants as well so you can't go wrong.
Lion Bar- The main rasta hangout in Grand Popo. This place lets you camp for those of you who are on a shoestring budget. Definitely the backpacker hangout.
Traveling in Benin for longer than a week? Here's a Benin Travel Guide for a longer stay!
Backpacking in Benin: a Two to Three Week Benin Itinerary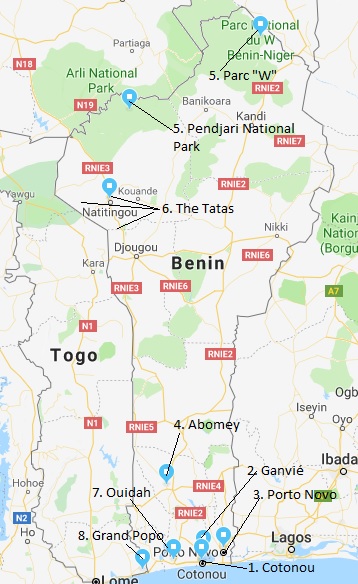 Benin Travel ItineraryDays 1-2: Cotonou, Ganvié (see above)
Day 3: Porto Novo: Leafy Streets and Colonial Architecture
Porto Novo is the capital of Benin, and it is a stark contrast from the craziness of Cotonou. It is also just around 45 minutes away! This used to be the center of the Gun people's kingdom, and it was renamed after Porto, Portugal when the Portuguese made it into a slave trading center.
For those of you who want to spend less time on the road, you can swap Abomey for Porto Novo in the one week Benin itinerary.
Things to see and do in and around Porto Novo:
There is a totally wacky, awesome Grand Mosque in Porto Novo that you cannot miss. No Benin travel guide would be complete without mentioning this mosque! It was built in 1912 by the Brazilian community in Benin and it was based off of the baroque style of colonial churches in Brazil. That's right. So the Christian church style went from Portugal, to Brazil, and then to Benin where it was used to build a Muslim place of worship. Pretty crazy(and sad because of, well, colonialism and slavery…)! The Musée Honmé is the former palace of King Toffa and a peek into the end of that traditional royalty with a focus on a special musical instrument, which was really cool.
The Musée Ethnographique de Porto Novo will introduce you to the tribal customs and traditions of the region. It also is in a cool old colonial building. The Centre Songhai is a research and teaching center for sustainable farming. They give one hour tours if you are interested in that. You can also stay there since it has an auberge. The Musée de Silva celebrates the Afro Brazilian community and also is known for showing films outside! Check to see what they have going on!
Just outside of Porto Novo (maybe 8km) there is a cool market that is held every 4th day in Adjarra. The market is known for the local drum makers and you can find a ton of awesome musical instruments! Apparently you can buy from over 50 different kinds of Tam Tams, so this would be a drummer's dream! You can find bus taxis going to Adjarra from the Gare Routiere near the bridge or take a moto.
Also, there are apparently much less touristy Stilt Villages (like Benin's famous Ganvié) that you can visit from Porto Novo. Apparently Aguégué is a nice village to visit around 10km from town. I did not go personally so I can't vouch for it, but I asked about prices and apparently you can find someone to row you there in a pirogue (takes around 4 hours) from the bridge. Or you can plan ahead with Iroko tours or through the Hotel Beaurivage that should cost between 6,000 and 8,000 CFA per person in a canoe or slightly more for a group in a motor boat.
Porto Novo is great and I hope you really consider additing it to your Benin itinerary.
How to get to Porto Novo/ How to get to other destinations in Benin and Nigeria from Porto Novo
To get to Porto Novo from Cotonou, you can find bush taxis at the Gare Jonquet or the Gare du Dantokpa. It takes around 45 minutes and should cost around 700 CFA. You could probably find a bush taxi at the Etoile Rouge if you just ask around.
To get to Cotonou from Porto Novo you can find a bush taxi in front of the Ouando Mosque or at the Carrefour Catchi.
To get to Natitingou buses also leave from near the Ouando Mosque.
The Gare Routiere is close to the bridge not so far from Musée da Silva. You will also be able to find transport to Cotonou and to Nigeria from there. Note that bush taxis to Nigeria will most likely stop at the border and you will need to find transport after crossing the border. I usually make a friend on the bus who walks with me through the process and helps me not to be ripped off too much!
Where to stay in Porto Novo
Since Porto Novo is just 45 minutes from Cotonou, you can see a lot as a day trip. Just remember that the sun sets at around 6pm so you will have to get an early start! But it is a good thing that Benin is so small! You won't spend all your time traveling in Benin cooped up in a bus.
Résidences Ouadada is a much beloved hotel that doubles as a cultural center in Porto Novo. It's a good deal if you're sharing a room!
Beaurivage is a little nicer and slightly more expensive. The plus is that you can organize tours to the local stilt/floating villages here!
Le Centre Songhai is a cool option for people on a tighter budget. It's 3 km north of town and, like stated above, it is a research and teaching center for sustainable farming. You are bound to meet some interesting people there!
Musée da Silva also has a run down auberge.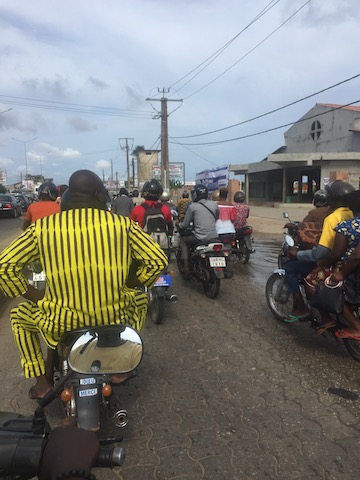 Benin Itinerary Days 4-5: Abomey (see above) and head north
Days 6-9 (or longer): Check out a national park and go on a safari in Benin!
There are two National Parks that are home to big cats, elephants, and plenty of other herbivores in the far north of Benin. They are Pendjari National Park, which is known to be one of the best national parks in West Africa, and the more isolated Parc National du "W" du Niger.
Although personally I feel like the best safaris are to be had in Southern and Eastern Africa, the sheer remoteness of these parks makes them attractive destinations in any Benin itinerary. You won't see elephants in a density that you may see in Zambia, but seeing a wild elephant in any context is special.
Just note that visiting the parks may be difficult/impossible in the rainy season so be sure to plan ahead and know about the road conditions. But going in the rainy season means there will be fewer tourists, even if that also means there will be fewer animals.
Also, for this Benin travel guide, it is totally possible to do a budget safari in Benin to Pendjari National park. Costs start to go up if you want to go to the Parc National du "W".
How to go on a budget safari in Benin: Pendjari National Park
This park is more straightforward to visit for a Benin travel itinerary. If you can get to Natitingou you can book a 4×4 and park guide from there. This is probably the easiest and most comfortable option. Hotel Tata Samba is on the main road in Natitingou and a place where you can easily organize a trip. Auberge le Vieux Cavalier is a cheaper option where you can also book 4x4s. Expect to pay around 65,000 CFA/day for a 4×4 car with a driver/ guide. You will also have to pay for the Pendjari National Park entrance fee of 10,000 CFA per person, a 3,000 CFA car entrance fee, and a possible 5,000 more for a guide.
How do you travel to Natitingou from Cotonou? Try the ATT bus near the Etoile Rouge in Cotonou. You can also find plenty of bush taxis heading that direction, though you may need to change a few times.
So you can also go on a budget safari in Benin for even cheaper, you just have to take public transportation to Tanguieta and book your 4×4 and park guide there.
Park guides are given an A, B, or C ranking, and so be sure to get someone with an A to ensure a good experience. Official guides will have an official identity card for the park with the rating on it that you can ask to see.
To find said guide you can pretty much ask any driver and soon you will be at someone's doorstep or corner store.
Tanguieta is the last town before the park gate. There are plenty of places to stay there, such as Le Baobab or the slightly seedier APP Bar-Dancing. It will be slightly cheaper to book your budget safari in Benin from there since you don't have to spend time driving in your private car from Natitingou.
Also be sure to stock up on supplies in Tanguieta. Expect European prices for simple meals in the park, so for your budget safari I recommend stocking up on peanut butter and snacks before entering Pendjari National Park.
With all budget safaris, camping outside the park is the cheapest option since you don't need to pay fees every day. But the downside with staying outside the park is that you may miss the early morning game drive, which is the best time to go!
But if you do stay in the park, for the purpose of this Benin travel guide, here are the popular places to stay:
The park gates close at 18:00 so remember that if you are staying in the park you have to plan to arrive before dark.
Pendjari Lodge: Your more classic lodge option. Not quite a budget safari place but you pay for the nice ambiance! Check out their website for more info and prices (About 100 Euros a night depending on the season).
Hotel Pendjari: A slightly cheaper and still popular option within the park.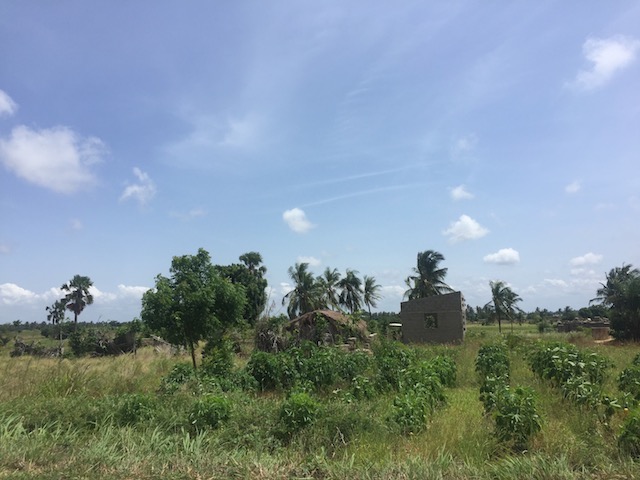 A safari in the Parc National du "W" du Niger: a little less budget friendly, a lot more isolated.
This park in the north of Benin is much more isolated. It is named for the "W" shape of the Niger river. Apparently the park is more developed in the Burkina Faso and Niger sides (the park is a trans frontier park).
Note that the "W" will have the French pronunciation of "doblé veh".
Expect to pay a minimum of 17,000 CFA per day just for park entry fees and taxes. This includes the fee for each person's entry, a mandatory guide fee, and the car fee. You must enter the park with a 4×4 vehicle and you will not be allowed to enter on foot.
You can take public transportation up to the town Kandi and possibly try to book a 4×4 there (if you do not have your own). Note that the park fees do not cover the fee of hiring your own car and driver and gas.
You can try to organize things at the Auberge de Kandi where you can also apparently book accommodation within the Parc National du "W" du Niger in advance.
The easiest entry will be to then go to Banikoara from Kandi. There is simple, inexpensive accommodation in Banikoara. From there you go to Kérémou to enter the park.
Full disclosure: I did not go to this park and am acting based on information other travelers gave me. After traveling all around the region I knew that it would end up being a huge expense to do it alone. The park entry fees are fine, it's just hiring a 4×4 and driver as a solo traveler in Benin would have been out of my price range
Lastly, double check if it is safe to travel in this isolated area of Benin when you are in the country. I know that this National Park is sometimes considered "off limits for tourists" in neighboring Niger, but this doesn't always apply to the Benin side of the park.
Benin Itinerary Days 10-12: Go back to Natitingou, the gateway to the traditional Tatas
Tatas are traditional, fortress-like houses built by the Somba (also known as Batammariba or Tammari) people of northwestern Benin and northern Togo. You can see the tatas in both Benin and Togo, but the Benin side is much nicer to visit.
This is probably one of the coolest things to do in this Benin travel guide!
If you happen to be taking a bush taxi between Djougou and Natitingou, you are bound to see the Tatas dotting the countryside, but the highest concentration of tatas is between Natitingou and Boukoumbé.
(Also, as listed above in the Pendjari National Park section, Hotel Tata Samba and Auberge le Vieux Cavalier are good hotel choices for Natitingou.)
Boukoumbé is near the Togolese border. Some people like to see the tatas in both countries, but know that if you cross into Togo you have to pay the entrance fee to see their tatas and (sorry not sorry) it seems like a ton of thugs run the tata tourism over in Togo.
Also! This is important, if you cross into Togo from Boukoumbé or vice versa, you MUST get your passport stamped in Natitingou as they do not have the stamping facilities at the border.
You can easily get to Boukoumbé from Natitingou to see the tatas on market days. Apparently it is always the day before Natitingou's market day. But on an off day you can take a momo/ Zem there. That will require some haggling but will cost you between 5,000 and 10,000 CFA depending on how good you are!
Visits to the villages and tatas in the region can be organized from hotels near Boukoumbé. You can also just ask around and possibly find a driver for the day.
Some local hotels and auberges near Boukoumbé include:
Otammari Lodge: Stay in a hotel that is a tata! It's a rustic eco lodge that is right on the road to Boukoumbé. This place is also known as La Perlede de l'Atakora
Tata Koubetti Victor: You stay in a local Tata that has turned into a hotel and restaurant/bar. They also offer excursions in the region and you can see their offerings and full price list at their website here!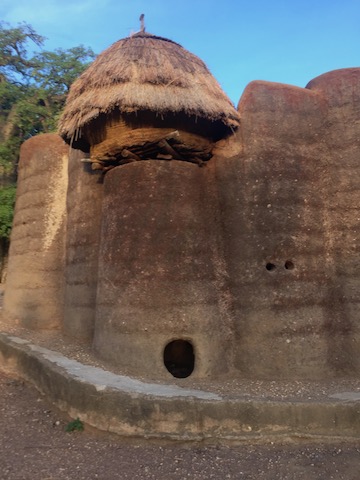 Benin Itinerary Days 12-14: Return south to Ouidah, Grand Popo (see above) and either go back to Cotonou to fly out or continue on to Togo.
How to get to the border with Togo:
I wanted to write about entering Togo in this Benin travel guide.
If you cross from the less popular border in the north near Boukoumbé, remember that you will need to do your border formalities at the police station in Natitingou!
The Togo-Benin border in the south that connects Cotonou with Lomé is a pretty straightforward border. The bush taxis that come from both Lomé and Cotonou do not cross the border. You need to get out and walk. Don't listen to the moto drivers saying they need to drive you farther because it is a very easy walk.
If you are crossing the Benin-Togo border from the Benin side, you get your exit stamp from the office to the left before you cross.
When you enter Togo, you have the option to buy a visa. They also check your yellow fever certificate. They actually give out the vaccinations at the border for the equivalent of 10 euros or something…ughhhh why did I pay 60 euros in France for the same thing?!
Once you exit Benin and arrive in Togo, keep walking straight. They do a sort of customs check which involved a hoard of men making fun of me and trying to get me to give them peanuts. If your Benin itinerary includes a jaunt into Togo, don't forget to get a multiple entry visa to Benin.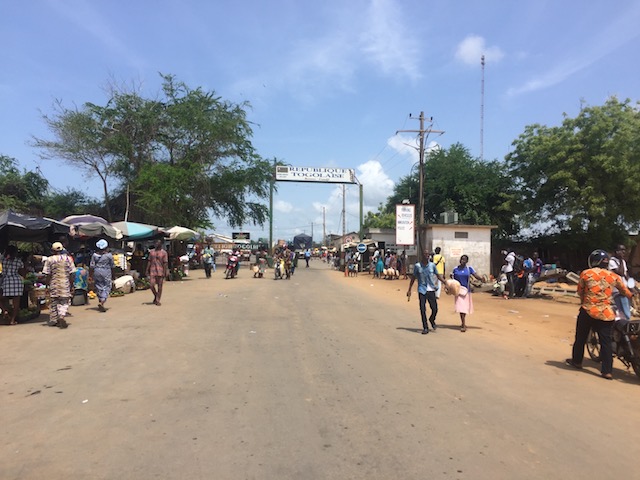 I hope that this guide to Benin will help you plan a wonderful trip!